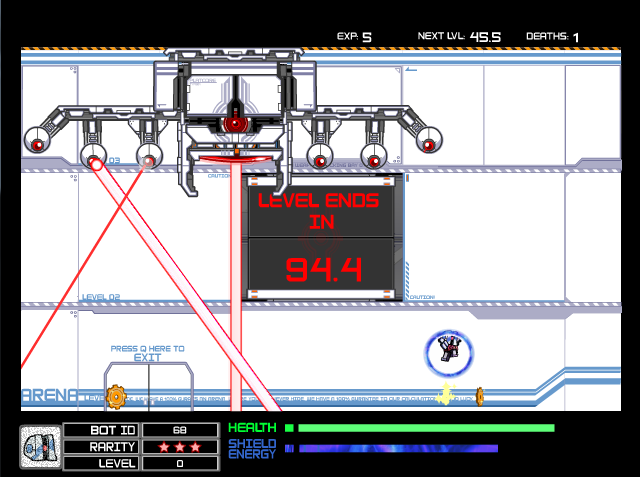 Flash developer Chris Jeffrey has recently put together an appealing snippet of footage from his latest title, Platcore, for us to feast on. It's a 2D, single-screen action game, very much a graduate of the dodge-or-die school of platforming – hence, if you've twitchy fingers and you're really not sure where to put them, wait a while and your prayers might just be answered along with this game's release. As the developer himself explains:
You play as a Platbot which is a testing robot for Platcore, and Platcore will be using you to test out their newest products, which come in the form of things which aren't exactly your friend (Lasers, turrets, even bigger lasers, and evil things!). You play in a test chamber and your sole aim is to stay alive and survive the testing procedures, remember though, your robot is dispensable so there are MANY robots to play as if yours gets destroyed.
The game will let you customize avatars from a huge selection of parts with the additional option to turn your finest testers into permanent trophies. On top of this, achievements abound and the frantic background beats are said to coordinate with each test lab's offensive operations.
Platcore is certainly looking rather nifty from the gameplay shown in the trailer below and could be well placed to satisfy that urge for death-defying action that resides in all of us. There's no release date as yet, but once Jeffrey has secured a sponsor for the game it should be with us in no time at all.
Trailer