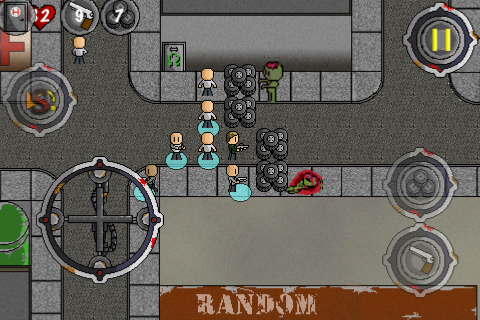 I'm aware of the fact that the indie and mainstream game markets are practically saturated with zombie titles right now, but I'll be damned if I still don't love 'em. I guess for many of the more basic zombie games, the undead are just the enemy du jour. Judging by the proliferation of zombie games, though, we must really like tearing into them.
Terror Rising is a procedurally generated top-down zombie shooter. You progress by clearing a city of its pesky zombie problem and presumably retiring to a shack with boarded doors. The game seems to have a well-crafted randomization algorithm, so it looks like it'll mix things up quite a bit throughout play. Additionally, the game can accommodate an impressive 200 zombies on the screen, so you can look forward to big, fierce battles between AI zombies and AI survivors. Your role is mainly one of leadership. You must struggle to keep it together and lead the small group of survivors as the levels get harder and the zombie hoards get bigger and bigger.
"Terror Rising has infinitely many cities to conquer in the quest for survival.  However, each city gets a little bit harder as you progress.  Specifically, the the human/zombie ratio approaches zero.  This means one one will see many more zombies on the streets, yet the feeble human resistance will always be present. "
For sustenance, you can take advantage of the city's many food outlets by bashing in windows in the looting mini-games.
Terror Rising has a pretty basic art style which actually looks pretty cartoony for a game about murdering the undead (who are basically green versions of you who seem to be missing the tops of their heads). It looks like it'll be a fun pick up and play title with plenty of undead massacres. The developer has mentioned that the game has been submitted and is currently awaiting approval from the app store. You can request beta access to the game via the developer's Facebook page.